Frank Carlier
Frank Carlier. Musician, Songwriter, Guitar Coach...
Frank of Carlier's School of Music has worked with the late Bob Gibson who wrote songs for Joan Baez, The Limeliters, Peter Paul and Mary, Simon and Garfunkel and the Byrds.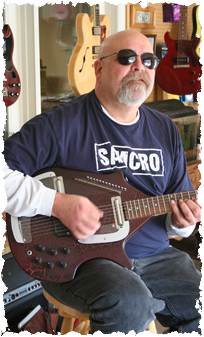 He worked as a guitar coach and musical consultant on the movie "Major League 3" staring Scott Bakula and Corbin Bersen.
Frank performed and appeared with Frank Stallone in the movie "Heart of Midnight" staring Jennifer Jason Leigh, Peter Coyote and Steve Busemi.
He played on the 60's folk legend Glenn [Baby the Rain must Fall] Yarbrough's Christmas CD "Holiday Harbor".
His music was used in Captain Scott Davis's fishing DVD "Catch and Release and a "Audubon Society" TV commercial produced by Mind Swell Media.
Carlier has collaborated with cellist and composer Matt Walker [of the Nashville Symphony and Nashville Alias Chamber Ensemble] on many musical projects including his own. Matt has performed with the late Chet Atkins and Lyle Lovett and has recently written a composition for world renowned cellist Yo Yo Ma and Joe Johnson who holds the principle cello position with the Toronto Symphony
He has worked with the Disney Network on the cartoon "Handy Manny" playing guitar and vihuela.
Frank has played Piccolo Spoleto numerous times and with the Charleston Symphony Orchestra. Once as featured artist doing his own songs and musical compositions.
He was an occasional writer for the "Charleston Free Times" entertainment news paper.
With his band "The Blue Wave" he took first place every time he competed in the Charleston "Acoustic Play Off" competition.
One of Frank Carlier's songs, "Christmas Eve in Afghanistan" was selected to be on a Christmas compilation CD released by Rob Ellen in the UK in 2013. Rob is the founder of "The House Club Concert European Hub" , the managing editor at "Flying Shoe Review" and is head of "The Medicine Show Radio" in Europe. He has been a big promoter of Frank's music overseas.
And yes....
He has worked with the "Notorious" TV host Jerry Springer.
Jerry Springer held a competition to a have a song written to represent his time filming his show in Chicago. With the urging of his friends and colleagues Frank [VERY reluctantly] entered one of his own songs off his "Americana 101" CD in the contest. There were thousands of entries But......
Frank WAS NOT a bit reluctant taking the $5000 cash prize when he won first place that gave him the "Infamous" Title "The Springer Singer". There are many American Idols but only one "Springer Singer". But he does not want that carved on his tomb stone.
Guitar Lessons, Bass Lessons, Mandolin Lessons, Buy Guitars, Sell Guitars
Located in Mount Pleasant, South Carolina